Hawaii's Crown Jewel: The Prince Course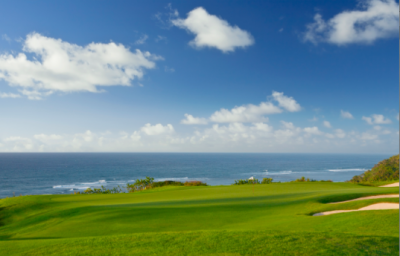 Robert Trent Jones, Jr.'s Tropical Treasure — the Prince Course at Princeville Golf Club on Kauai.
PHOTO: No. 7 at Prince Course 
PHOTO BY AIDAN BRADLEY
Several times a day, visitors to Kauai's Prince Course at Princeville Golf Club ask to rent a cart.
But not for golf.
Instead, the cart is for a spectator-only cruise around the magnificent Robert Trent Jones, Jr. layout, regarded by many experts as Hawaii's top golf course. It's something Princeville Golf Club General Manager T.J. Baggett has come to expect.
"We get a half dozen or so people pretty much every day who just want to tour the course," Baggett said. "It's part of the 'wow factor' of the Prince Course … even if you're not playing it, you want to see it."
And, as part of Princeville Golf Club's world-class hospitality, the non-players are granted access to the cart paths to take in the 350 acres of panoramic vistas of the Pacific Ocean and looming mountains.
Undoubtedly, that's a great way to spend a morning or afternoon. But playing the course is even more fun.
I love it. The course itself is a roller coaster thrill ride, right from the first tee shot. In fact, the severely downhill, dogleg par-4 1st hole sets the tone for the next 17 holes. From the blues – the middle tee box — you don't need a driver. And in fact, you can keep it in the bag for a while, as it may hurt more than help on many of the holes.
"It's a precise golf course," Baggett said. "What's unique about the design it is the variety of precise shots you need to play."
In fact, I contend – and then get it confirmed later by a staffer – that this course is a lot more playable for better players from the back two tee boxes. From there, you can use your driver and remove from your landing areas many of the traps and water you're sure to encounter from the blues and whites.
The Prince Course layout takes you through an enjoyable variety of narrow and open hole designs, featuring several doglegs bordered by canyons. On the long par-5 10th, one of those scenic canyons comes into play if your club selection and shot placement are off.
Wayward shots will, literally, end up in the jungle on many holes. The Prince Course carves its' way through lush tropical growth from start to finish, which lends to the serene, escapist feel.
"So many people who play come back and tell us how they felt like they were in their own little world out there," Baggett said. "They have a 'getaway' experience combined with a fantastic, challenging golf course."
Even a shot that finds a bunker leads to a vacation kind of feel. The traps are filled with what's essentially beach sand. Once you reach the green, staffers say the Seashore Paspalum putting surfaces have no grain. They roll like they look … and they look amazing.
The Prince Course reopened at the beginning of 2012, after an extensive renovation. It's in great shape and sports amazing views of the ocean and distant mountains. Much of the course dips down into valleys and up hills – the temperature varies by at least 10 degrees during my round. There's plenty of colorful foliage, waterfalls and wildlife throughout – just what you would expect from an outstanding Hawaiian course.
"Our landscaping team works on about a two week cycle to keep the jungle from encroaching back on the golf course," Baggett said. "They start at one hole, work their way around the course in about two weeks, and then it's time to start over."
The lush growth has led to a potential flora and fauna tour at the Prince Course; Baggett says Princeville Golf Club is planning to host guided jaunts to show off the array of tropical beauty. Another really nice touch already in place:  The "Aloha Run," where staffers cart out freshly cut pineapple and cold water to golfers.
You'll never have to rush through a round at the Prince Course. In fact, the only conceivable reason to hurry would be to get to The Taverns, famed chef Roy Yamaguchi's restaurant in the expansive clubhouse. The grilled ham and cheese sandwich, tomato bisque, and carbonated fresh lemonade are outstanding. As is the service with a smile.
Baggett had the privilege of playing with Robert Trent Jones, Jr. at the Prince Course in January. The Prince Course was one of Jones' earliest designs, which makes the layout all the more remarkable given how the holes flow seamlessly throughout the natural landscape.
"It was a real treat to hear about how he visualized the course when he surveyed the property," Baggett said. "He said it's still one of his favorite designs, even after all he's gone on to do after he made (the Prince Course) so early in his career."
Whether you rent a cart to tour the course, or pay the weekday green fees of $180,  the Prince Course isn't to be missed. My suggestion would be:  Bring your clubs … and your camera.
 A FRESH APPROACH TO MINIATURE GOLF: The "Mini Prince" Par 3 Course at Princeville Golf Club
In April, the Prince Course at Princeville Golf Club debuted the "Mini Prince" six-hole par-3 course on its 13-acre driving range. Each hole is shorter than 91 yards, and has oversized eight-inch-diameter cups to make things easier for novices.
Every day at 3 p.m., the staff closes the range and cleans up all of the errant range balls and transforms the six enhanced practice greens into the Mini Prince course – replete with unique tee boxes bearing artificial turf mats, plenty of bunkers and hilly terrain. First tee time is at 4 p.m.
It's a walking course designed for all skill levels and perfectly suited to families who want to enjoy a few holes together.
"People love to play barefoot, walking on the Seashore Paspalum grass that's the same as out on the Prince Course," Princeville Golf Club General Manager T.J. Baggett said. "It's a great way to get kids interested in golf, with the bigger cups making it more fun and easy to play, and it gives everyone a resort golf experience without the cost."
The course measures 424 yards total, with the individual holes ranging from 65 yards to 91 yards. Most people play the course in 30 minutes. But everyone can play for as long as they want, until sunset – all inclusive. The Mini Prince play rate is $15 for adults (free to those who played the Prince Course on that same day) and free to juniors ages 8-17, if accompanied by a paying adult. Unaccompanied juniors ages 12-17 can play for $5. All rates include a carry bag with appropriate clubs.
– SCOTT KRAMER