ATTENTION GOLFERS! Are you ready for some football?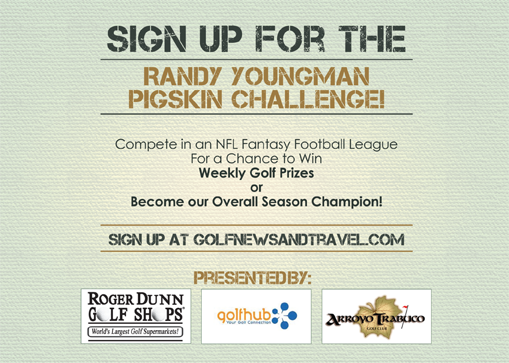 All sandbaggers waiting on the first tee: A new skins game is coming to calgolfnews.com and golfnewsandtravel.com this fall.
A pigskin game, that is.
"Randy Youngman's Pigskin Challenge" – a weekly NFL predictions contest against readers of California Golf and Golf News & Travel – kicks off here in September, in time for the 2012 NFL season.
Like in a similar contest I conducted in a Southern California newspaper the previous 23 years, everyone is eligible to test his or her skill picking NFL games against the So-Called Expert – that's me – on a weekly basis by registering for our online contest at calgolfnews/challenge.
Follow instructions to choose a username and a password, and you're ready to match weekly picks against me and all other contest participants. There will be weekly standings and a weekly prize for best record, as well as a grand prize winner at the end of the season.
In addition, all aspiring guest prognosticators will have a chance to be spotlighted in my one-on-one Pigskin Game online every week. To qualify to become one of my 17 guest opponents during the NFL regular season, all you have to do is send in your favorite golf story or anecdote.
If you have a story about your worst golf hole, like Kevin Na's 16 on No. 9 in the 2011 Texas Valero Open, send it in.
If you want to go into horrifying details of your worst round ever, make it good.
If you hate a particular golf hole for whatever reason, tell me why.
If you have a funny golf betting story – preferably one that doesn't end in violence – send it in.
If you have a great golf joke, let's hear it.
If you have a pet peeve that annoys you on the golf course – for example, being subjected to unsolicited advice, sandbagging, temper tantrums, unlimited mulligans, plumb bobbing, etc. – tell me about it.
You can also brag about your luckiest shot ever, but it better be entertaining if you want to be one of the Selected 17.
The author of each of the 17 stories I select will be featured online and bestowed with the honor of challenging the So-Called Expert during the NFL regular season, which opens September 5 with the Super Bowl champion New York Giants playing host to the division rival Dallas Cowboys at MetLife Stadium.
If you beat the So-Called Expert, you win a dozen golf balls from TaylorMade, as well as bragging rights for the rest of your life. All aspiring guest prognosticators are hereby forewarned that trash-talking is permissible and public humiliation is possible if you are trounced that week.
All aspiring guest prognosticators can reach me at randy@calgolfnews.com. Please leave a phone number you can be reached at in case you are selected.
You're on the clock.