Bhavik Patel leads SCGA Amateur heading into final round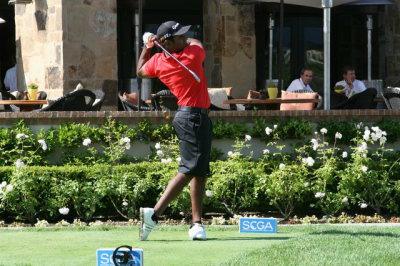 NEWPORT BEACH, Calif. Bhavik Patel has been the model of consistency in major California amateur tournaments the past few years, and this weekend at the 113th SCGA Amateur Championship is no different. The 2011 California Amateur winner fired a 5-under par 67 Saturday to take a three-stroke lead heading into the championship's final round, which will tee of at 7 a.m. Sunday.
"I stuck to my game plan today," said Patel. "The greens are so firm and fast, it's crucial to keep it on the right side of the hole and I was able to do that. On the holes that I wasn't, I had tough putts but luckily I was able to make those for par."
Patel followed up his 2011 California Amateur title with a fifth-place finish at last year's SCGA Amateur. Earlier this summer, he earned medalist honors at the 2012 California Amateur before falling in the quarterfinals.
"It would mean a lot [to win this]," Patel said. "It would really be a spark on my summer, especially because I came so close in 2006, so it would be really cool, really special."
His third-round 67 was the lowest round of the tournament thus far, and followed up two rounds of 71 Friday for a three-round total of 7-under par 189. Patel fired a clean round Saturday, carding five birdies and no bogeys, including an impressive end to his front nine with birdies on holes eight and nine.
The most difficult obstacle between Patel and his first SCGA Amateur title may be Big Canyon CC member Stewart Hagestad, who carded the second-best round of the day Saturday with a 3-under par 69 and sits just three strokes off the lead. The 21-year-old USC student has been playing the Big Canyon course for most of his life.
"This is what you practice and play for," said Hagestad. "With the Championship being on my home course, it would be so special to win. [2011 Champion] Patrick Cantlay is a good friend of mine, and he spoke volumes about how much [winning this] meant to him, but all I'm going to focus on is the rest of this afternoon, practice play, and if I'm in the mix tomorrow that's all I can ask for."
The 36-hole leader Xander Shauffele struggled a bit Saturday, posting a 2-over par 74 after impressive rounds of 68 and 71 Saturday. The San Diego native had a tough back nine, double-bogeying the 377-yard par 4 14th hole and bogeying the 426-yard par 4 17th. He did, however, take a three-stroke lead into the day, leaving himself a chance to claim the SCGA Amateur title, a championship won by the likes of Tiger Woods, Charlie Wi and Patrick Cantlay.
The Big Canyon CC course has been a tough challenge for competitors all week, and only four of the 47 golfers left in the championship remain under par. There have been more than twice as many bogeys as birdies throughout the first three rounds, and participants complimenting the both impressive and difficult course conditions became a constant pattern.