Official poster unveiled for the 2012 U.S. Open at The Olympic Club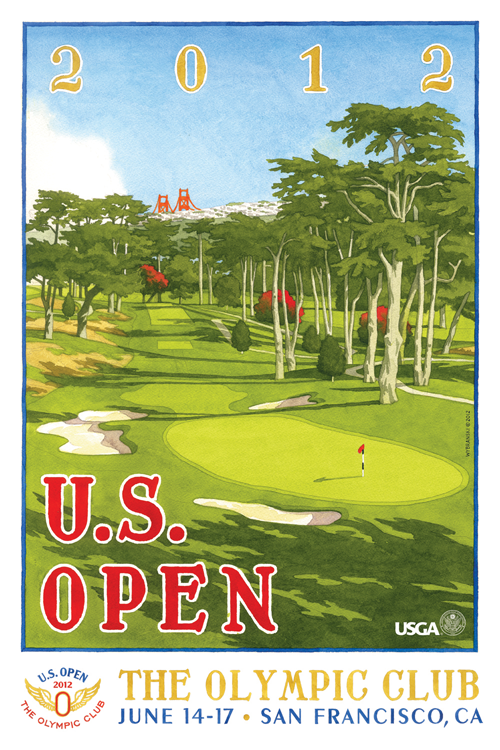 For the fifth consecutive year, Arizona-based artist Lee Wybranski has lent his signature style to the official poster for the U.S. Open, which takes place June 14-17 at The Olympic Club in San Francisco.
Inspired by the classic posters of the 1920s and '30s, Wybranski brings a precise compositional sense and hand-done aesthetic to the work.
"It's cliché, but I really do take a less-is-more approach with the posters," Wybranski said. "I don't want to create images that depend on intricate details for their impact. I want to create images whose impact comes from strong composition, interesting color choices and interesting typefaces."
The poster utilizes important themes connected to the event and this year's site.
"I think posters should have two to three main characters, at most," Wybranski said. "And with the U.S. Open posters, one of those characters is always championship golf. The other two characters in this year's poster are the incredibly dramatic and evocative cypress trees and, of course, the Golden Gate Bridge."
Wybranski  was first commissioned by the USGA for 2008 U.S. Open at Torrey Pines, where Tiger Woods famously claimed the title after 91 holes.
In addition to the posters he is commissioned to create for various championships, his firm Group W Art Works also works with the USGA, along with private clubs such as Merion Golf Club, site of the 2013 U.S. Open, on logo and brand development.
Wybranski also has been commissioned to create the official poster for this year's Open Championship at Royal Lytham and St Annes.
The 2012 U.S. Open poster will be available on-site at The Olympic Club during the championship and online at USGAshop.com.
For more on Lee Wybranski and his work, visit GroupWArtWorks.com.